Car Accident Lawyers in Atlanta
You Get Better. We'll Deal With the Insurance Company.
Every day, countless people get in their cars to go to work, school or elsewhere. Too many of them drive too fast, they drive while under the influence of alcohol and/or drugs, they talk on their cell phones or send and read text messages, they eat and put on makeup, or they simply do not pay attention. These are acts of negligence that put you in danger.
From fatal car accidents to those that result in serious brain injury, spine injury or any other catastrophic injury, we can help. Our team of car accident attorneys at Ross & Pines, LLC will go after the people who caused your injuries to make sure you are fully compensated for your medical bills, pain and suffering, lost wages and other costs. With more than 100 years of combined experience, our firm has the knowledge and skill to help you. We are trial lawyers who are committed to helping you recover all of the money you deserve to compensate you for your injuries.
Contact our firm to make sure you are fully compensated for your injuries. Call (888) 838-4858 for a free case evaluation!

Who is Liable for a Car Accident?
Georgia is a "fault state" when it comes to car accident cases. This means that the party responsible for an accident pays damages, usually through an insurance carrier. Most accidents, however, are often caused by more than one party. Oftentimes even the injured party is found partly responsible for an accident. In these cases, Georgia follows a "comparative fault" rule. This means that an injured party is eligible to file a claim even if they are partially at fault as long as the other party is more at fault.
In a comparative fault claim the percentage of responsibility a defendant is found to bear will also be deducted from their overall compensation awarded to them. For example, if you are found to be 15% at fault for the accident that caused your injuries your total compensation awarded to you by the court will also be reduced by 15%. Car accident law in Georgia can be complex and confusing. Our team of attorneys will guide you through your claim while fighting for the maximum amount of compensation you deserve.
Recovering The Money That You Deserve
We know the value of conducting a thorough investigation, especially when the person who injured you is unwilling to admit that it was his or her fault you were injured.
We make sure that we uncover all pertinent information to your case by:
Scouring police and incident reports
Interviewing witnesses
Obtaining police videos
Reviewing cell phone records
Enlisting licensed private investigators
Consulting with expert witnesses
Once we obtain this information and evidence, we will use it to build your case and recover the money that you deserve. While our first step is to pursue a fair settlement, we know that insurance companies are not always willing to provide you with the full compensation you deserve. When they do not, we will be ready to take your case to the next level. We know what to do to get you the results you are looking for and the full compensation that you deserve.
Can I File A Car Accident Claim After Insurance Pays?
Since most insurance settlements state specifically that the amount laid out in the agreement will be the only compensation paid, once you agree to a settlement amount it's usually difficult to recover any more compensation. If you have already signed an agreement, you may still have options. Call our firm today to learn how we can help you and what next steps you can take.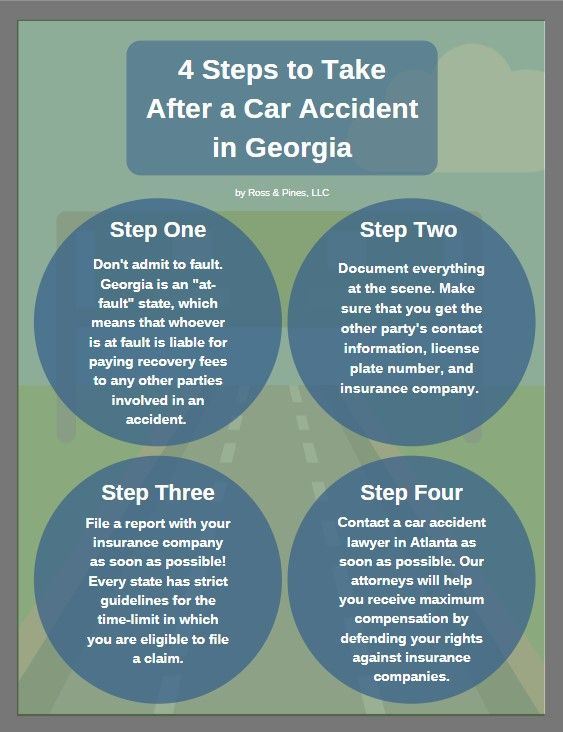 What are the Steps to Take After a Car Accident?
When you are involved in a car crash in Atlanta, it is important to seek safety as soon as possible. Car accidents are traumatic events, regardless of how serious an accident may be. If you were in an accident due to the negligence of another driver, you may be eligible for compensation for your injuries and repairs. In order to receive maximum compensation, it is important to follow the following four steps to take after a car accident in Atlanta.
Follow these 4 steps to take after a car accident in Georgia:
Step One: Don't admit to fault. Georgia is an "at-fault" state, which means that whoever is at fault is liable for paying recovery fees to any other parties involved in an accident. Even if you think that you are the one who made the mistake, reserve your comments until you speak with your insurance company directly.
Step Two: Document everything at the scene. Make sure that you get the other party's contact information, license plate number, and insurance company. Additionally, if there were any witnesses at the scene, collect their contact information, as well.
Step Three: File a report with your insurance company as soon as possible! Every state has strict guidelines for the time-limit in which you are eligible to file a claim. Contact your insurance company as soon as you can to ensure that you are within the required time limit.
Step Four: Contact a car accident lawyer in Atlanta as soon as possible. Insurance companies are aggressive and filing an injury claim due to negligence is a complicated process. Our attorneys will help you receive maximum compensation by doing everything in our power to defend your rights against insurance companies.
If you have questions about how to file a car accident claim in Georgia, contact our attorneys and receive a free consultation to discuss your case. We will defend your rights and walk alongside you through this difficult time!
Get Started with a Free Consultation!
Personal care is a highlight of the service that is provided by Ross & Pines, LLC. One of the first steps we take is to sit down with you and listen to what you have to say. We understand that each of our clients has different needs. We want to know what yours are so that we can effectively develop the right strategy for your case. The legal strategy we design will be built specifically for your personal injury case and your unique needs. If you or a loved one has been involved in a motor vehicle crash, get help from our car accident attorneys in Atlanta.
Contact Ross & Pines, LLC today to get started! If we don't recover money for you, you won't owe us any legal fees.